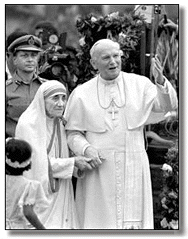 A solemn mass kicked off a day of remembrance Thursday on the birth centenary of Mother Teresa, known as the "Saint of the Gutters" for her life's work with the sick and destitute of Kolkata.
The mass, presided over by Cardinal Telesphore Placidus Toppo of Ranchi, was held at the headquarters of the Missionaries of Charity -- the order of nuns that Mother Teresa founded in this eastern Indian city 60 years ago.
A message from Pope Benedict XVI was read out at the mass, which drew around 1,000 people, hundreds of whom had to stand outside the packed chapel.
Afterwards, the nuns who succeeded Mother Teresa, Sister Nirmala and the current head of the order, Sister Prema, released some white pigeons as a symbol of peace and compassion.
"I am confident that this year will be for the church and the world an occasion of joyful gratitude to God for the inestimable gift that Mother Teresa was in her lifetime and continues to be through the affectionate and tireless work of you, her spiritual children," the pope's message read.
Mother Teresa, a Nobel peace prize winner and now Roman Catholic saint-in-waiting, was born on August 26, 1910 to Albanian parents in what is now Skopje in Macedonia.
As Agnes Gonxha Bojaxhiu, she arrived in India in 1929 and two years later took her first religious vows as a nun and adopted the name under which she would achieve worldwide recognition.
As well as Kolkata, Thursday's anniversary was to be marked in the three neighbouring Balkan states of Albania, Macedonia and Kosovo -- all of which lay claim to a slice of the Mother Teresa legend.